THE SCRATCHING POST
Summer 2000, Issue 4 - Let the Sun Shine In! Edition
by Home2Cats Founder: Barbara Stanley

Home2Cats
P. O. Box 752671
Memphis, TN 38175-2671

Mews You Can Use

A stray is a domestic cat that has been abandoned or has "strayed" from home. Strays were once pets, and they can usually be successfully rescued and placed in homes.

A feral cat is a cat that has usually been born outside and has had little or no contact with people. Ferals are wild and they prefer not to interact with us or our domesticated pets. They establish their own territories in geographic areas that will support them, although sometimes at a bare subsistence level. Rescued young enough, a feral kitten may be successfully tamed, but most adult feral cats resist domestication and may not adapt to living indoors with people.

The stray and the feral cat have a great deal in common: Fear, discomfort in a hostile environment and hunger.

Stray and feral cats need our help. Simply providing food and water for a stray or feral cat is not enough and only allows them to survive and reproduce, perpetuating overpopulation. Take responsibility for that animal's future by spaying or neutering and possibly vaccinating them.

Feral and stray cats can be humanely trapped. A common practice for feral cats is to trap, spay/neuter, possibly vaccinate them and release them in their home territory. An ear is notched or clipped so that they won't be trapped again. A stray cat can also be trapped, spayed/neutered and vaccinated. Instead of releasing a stray, consider finding it a home or adopting it yourself.

If you have other pets, you may dedicate a room such as a spare bedroom or bathroom to a stray. Many cities have low cost spay/neuter and vaccination programs for strays and ferals, such as the city's Animal Shelter and the Animal Protection Association. Once the stray has been spayed or neutered, you can place an ad at your local vet, feed and pet stores.

Remember that doing something is always better than doing nothing.

We can all make a difference, one cat at a time!

Cat Tails Profile: Elvis
Breed: Persian

Elvis is a white Persian with golden eyes and purr-sonality plus! His past is somewhat mysterious with little known about him except his first two owners 'grew tired of him.' Fortunately for Elvis (and us), an official at the shelter he was turned into felt this quiet Persian with an intelligent face deserved a better fate and asked Home2Cats to help.

With so much rejection and trauma behind him, Elvis couldn't adjust to his new adoptive home. He returned to Home2Cats and the process began again to find him home where he could be happy.

Elvis decided that his fourth home was just the place for him and now gambols happily with his new house mates. He loves to be in the middle to things—but never at the center—and indulges his curiosity by exploring the house from top to bottom—literally.

Elvis says: "Time's a-wasting! Let's go PLAY!"

Elvis's Favorite Things:
| | |
| --- | --- |
| Favorite Item ... | Tails of unsuspecting housemates |
| Favorite Toy ... | The whole house! |
| Food ... | Eukanuba |
| Destination ... | Home2Cats |
| Activity ... | Playing tag and slide |
| Music ... | Almost anything by the other Elvis |
| Song ... | "Love Me Tender" |
Elvis's Least Favorite Things:
| | |
| --- | --- |
| Least Favorite Item ... | Combs, brushes, clippers |
| Least Favorite Toy ... | Anything fast moving |
| Food ... | Fried peanut butter and banana sandwich |
| Destination ... | Any place that's not home |
| Activity ... | Having matted hair shaved off. |
| Music ... | Cat-erwauling |
| Song ... | "You Ain't Nothin But A Hound Dog" |

From The Cat's Clawset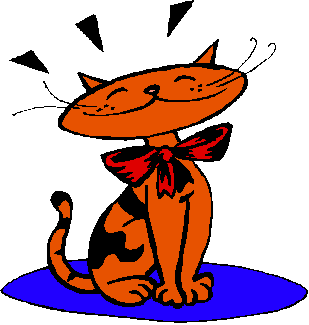 "Thousands of years ago, cats were worshipped as gods. Cats have never forgotten this "
--Anonymous

Animal and People Recognition: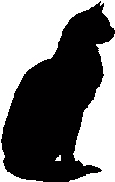 In honor of 2 felines:
Phoebe and Sharman Holle Noel
--Ruth Blann Cartledge Jr.
In memory of:
Ted Cartledge, Jr.
--Ruth Blann Cartledge Jr.
In memory of: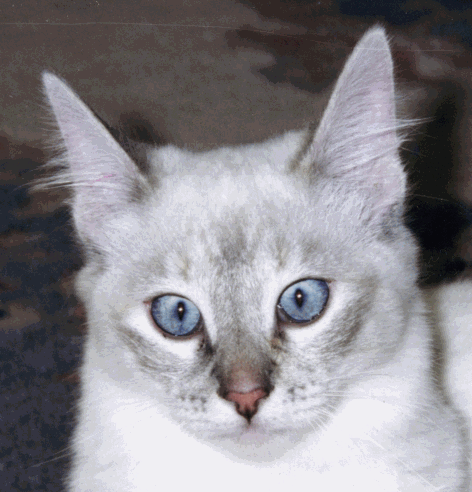 Ki-Ko
--Linda Piekarski

In memory of:

Artful Dodger and Kodiak


"Home2Cats will miss your furry faces"
--Larry & Barbara

The Cat Trail (It's Fur to the End):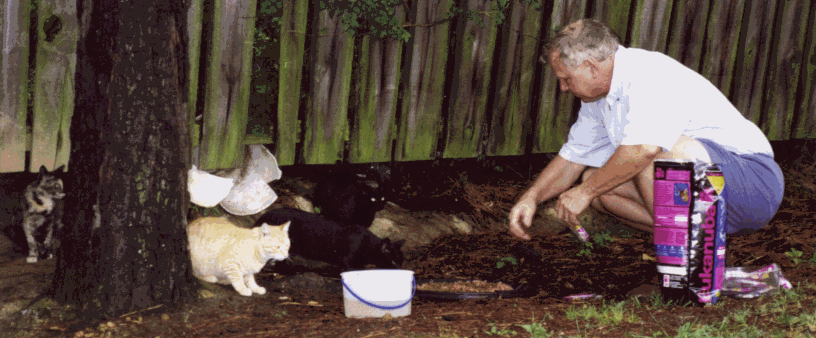 Home2Cats is always on the cat trail. We monitor and support several feral colonies around the Memphis area. We make sure each colony has a 'caretaker' who supplies them with food and water daily. Home2Cats often provides these caretakers with food donated to us for that purpose.
We are in the process of spaying, neutering and releasing the cats in each colony. The above pictured feral colony's spaying and neutering was sponsored by Dr. Brenda Bush and staff of Island Veterinarian Service of the Cayman Islands.
We have several other colonies that are in need of your help. Until we spay and neuter all the adults in these colonies, they will grow by several litters of kittens each year. We also monitor colonies that we have spayed and neutered for newcomers, who we then trap, spay/neuter and release.
Your donation of $25 will spay or neuter one feral cat. Please help us to make a difference with the over population of wild cats, one cat at a time.

A Word From Home (2Cats)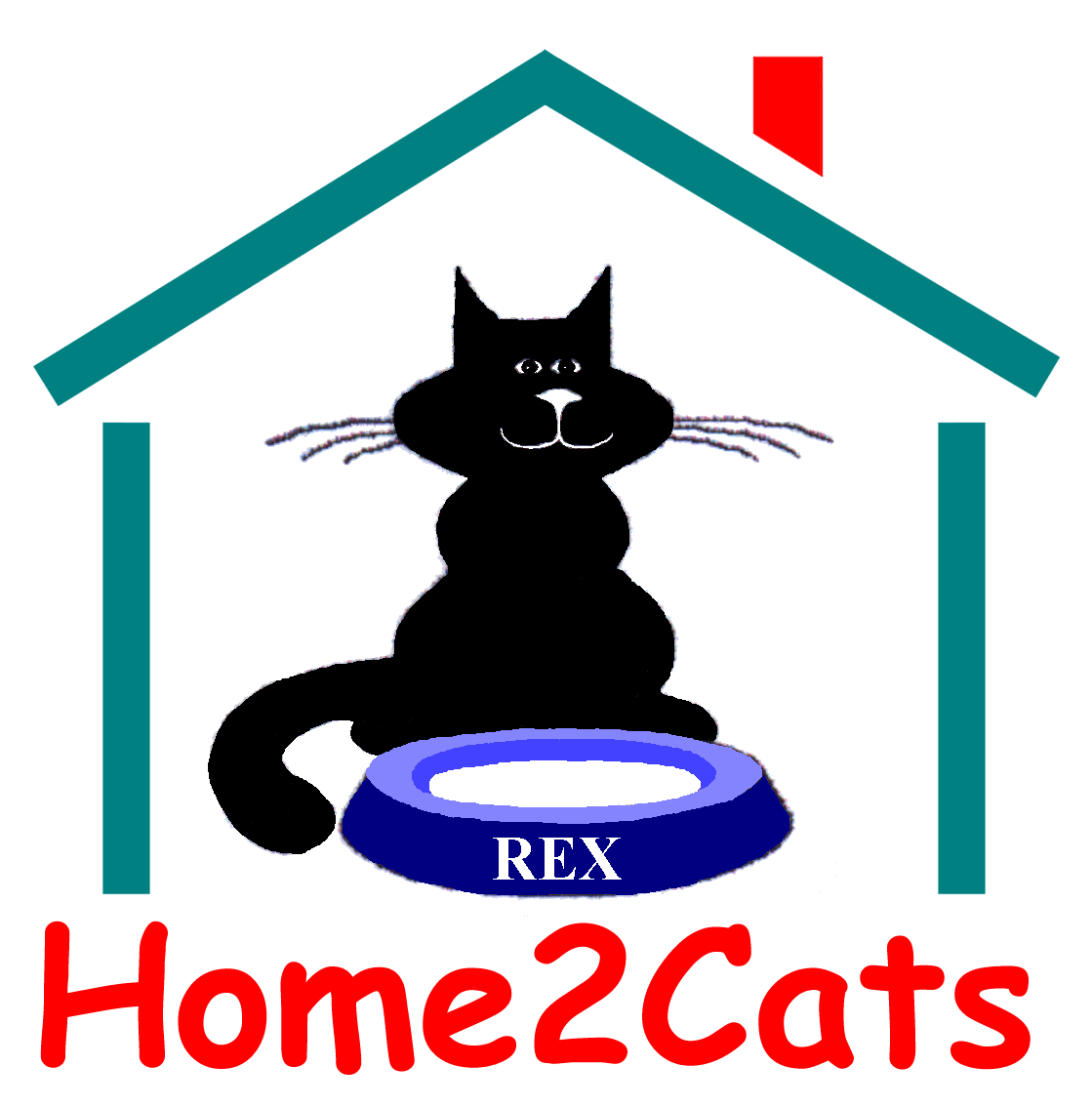 It was just a year ago this June that Home2Cats became a chartered Tennessee charitable organization with IRS tax deductible status. It may have been the Chinese Year of the Rabbit, but in Memphis, it was the Year of the CAT. Happy Birthday to US!!!!


Or write to: Home2Cats
P. O. Box 752671
Memphis, TN 38175-2671

Please bookmark this page and come back often!
This page was last updated 08/05/08.