Have a happy and safe Halloween!
(And please keep your pets inside.)

THE SCRATCHING POST
Fall 2000, Issue 5 - Home2Cats 1st Anniversary! Edition
by Home2Cats Founder: Barbara Stanley

Home2Cats
P. O. Box 752671
Memphis, TN 38175-2671

Mews You Can Use

Feline Leukemia (FeLV) is a disease caused by a virus infection in cats. The virus is present in saliva and possibly the urine and feces of infected cats. It is spread by direct contact with infected cats. Licking, biting and sneezing are common forms of transmission. Food and water dishes are likely sources of infections, if healthy cats share them with infected cats. However the virus is relatively unstable and will only survive outside an infected cat for a very short length of time, so extensive cat-to-cat contact is required for efficient spread.

Veterinarians can test for the disease in their office by taking a blood sample from your cat. If your cat test positive for the feline leukemia virus, there are three possible outcomes:

About 1/3 will develop an immunity to the virus and become resistant to future infections.
About 1/3 will become 'carriers' of the disease…..harboring the virus but not coming down with symptoms.
The remaining 1/3 will become infected with the disease.

Cats who test positive may live for months to years. It is possible and feasible to keep a FeLV positive cat and ensure good quality of life with the help of your veterinarian. FeLV positive cats should not be allowed to roam outside and should be kept indoors. This not only protects other cats from FeLV, but protects the FeLV positive cat against diseases and illnesses.

Dog Tails Profile: Clancy

Breed: Back Street Special

I know 'Dog Tails' is coming as a surprise to you cat lovers but our mission statement reads 'animals' not just 'cats'. So when the need arises for us to help an animal other than a feline, Home2Cats does not turn its back.

Clancy was just such an 'animal'. Larry saw him on the side of the road in January, a victim of hit and run from the night before. As Larry drove by, Clancy slightly lifted his head. Larry noticed this slight movement and immediately turned around.

He rushed him to the vets, barely alive. Clancy had a broken pelvis and leg, and his major organs were shutting down. It took three days to stabilize Clancy's condition before he was strong enough for surgery to have a pin inserted in his leg.

Clancy has gone from 'comatose' dog to 'hyper' dog in no time flat. Clancy would love to find a home that includes his 'favorite things'!

Clancy's Favorite Things:
| | |
| --- | --- |
| Favorite Item ... | Cats, dogs and children |
| Favorite Toy ... | Plastic bucket—very entertaining |
| Food ... | Eukanuba—especially the cats' when no one is looking. |
| Destination ... | Any place by car |
| Activity ... | Visiting 'Inky' and eating corn dogs made by Inky's dad. |
| Song ... | 'I Want You, I Need You, I Love You' by Elvis Presley |
Clancy's Least Favorite Things:
| | |
| --- | --- |
| Least Favorite Item ... | Water—definitely no retriever in this dog! |
| Least Favorite Toy ... | Frisbee-aggravating toy when you can't figure out how to catch it. |
| Food ... | This does not exist! |
| Destination ... | This does not exist either! |
| Activity ... | Following commands- He can follow commands, he just feels it's more fun being a free spirit. |
| Song ... | "You Ain't Nothin But A Hound Dog" by Elvis Presley. |

A mewsing!
"Meow is like 'Aloha' ... it can mean anything" ---Hank Ketchum
"If man would be crossed with the cat, it would improve man but deteriorate the cat" ---Mark Twain

Chef Madison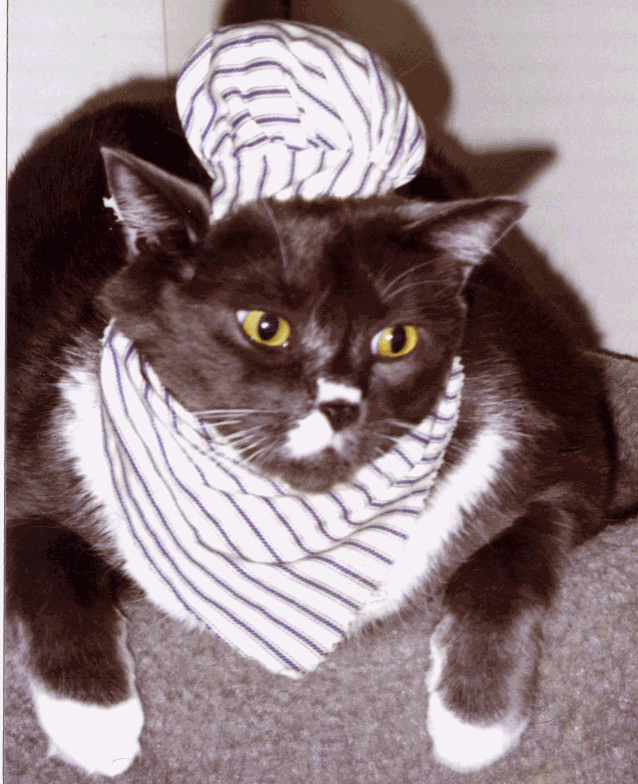 Chef Madison says the purrfect cat treats are made from scratch.
Chef Madison finds it hard to watch the waistline when there are whisker licking good recipes such as his 'Tail Mix'.
Tail Mix:
½ cups cooked boned and skinned chicken or turkey
1 large egg
2 Tablespoons regular-strength chicken broth
1 cup cornmeal
About ½ cup whole-wheat flour
In a blender or food processor, blend chicken, egg and broth into a smooth puree. Scrape into a bowl. Add cornmeal and ½ cup of flour. Stir until well moistened. Cover dough and refrigerate until firm enough to handle, at least 2 hours.
On a lightly floured board, roll out dough about ¼" thick. Cut into ½" squares or triangles. Scatter slightly on greased baking sheet. Bake at 350 degrees until golden around edges (approx. 15 minutes) Remove from oven and stir Tail Mix in pan, let cool.
Refrigerate airtight up to several weeks; freeze for longer storage. Makes 3 cups.

Animal and People Recognition: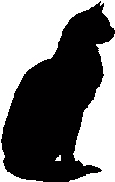 In memory of people:
Ted Cartledge
--Ruth Blann Cartledge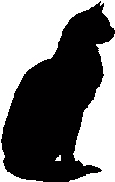 In memory of animals:
Fluffy
--Ellen Lentz
Uxmal and Taku
--Steve Meyer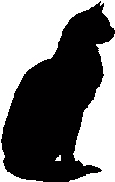 In honor of animals:
Phoebe and Sharimar Holle Noel
--Ruth Blann Cartledge
Daphne
--Steve and Conita Grigsby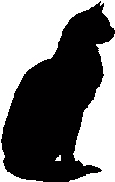 In honor of people:
Ellen Lentz and Steve Meyer
--William Vandenburgh
Linda Piekarski
--Dorren Ball

A Word From Home (2Cats)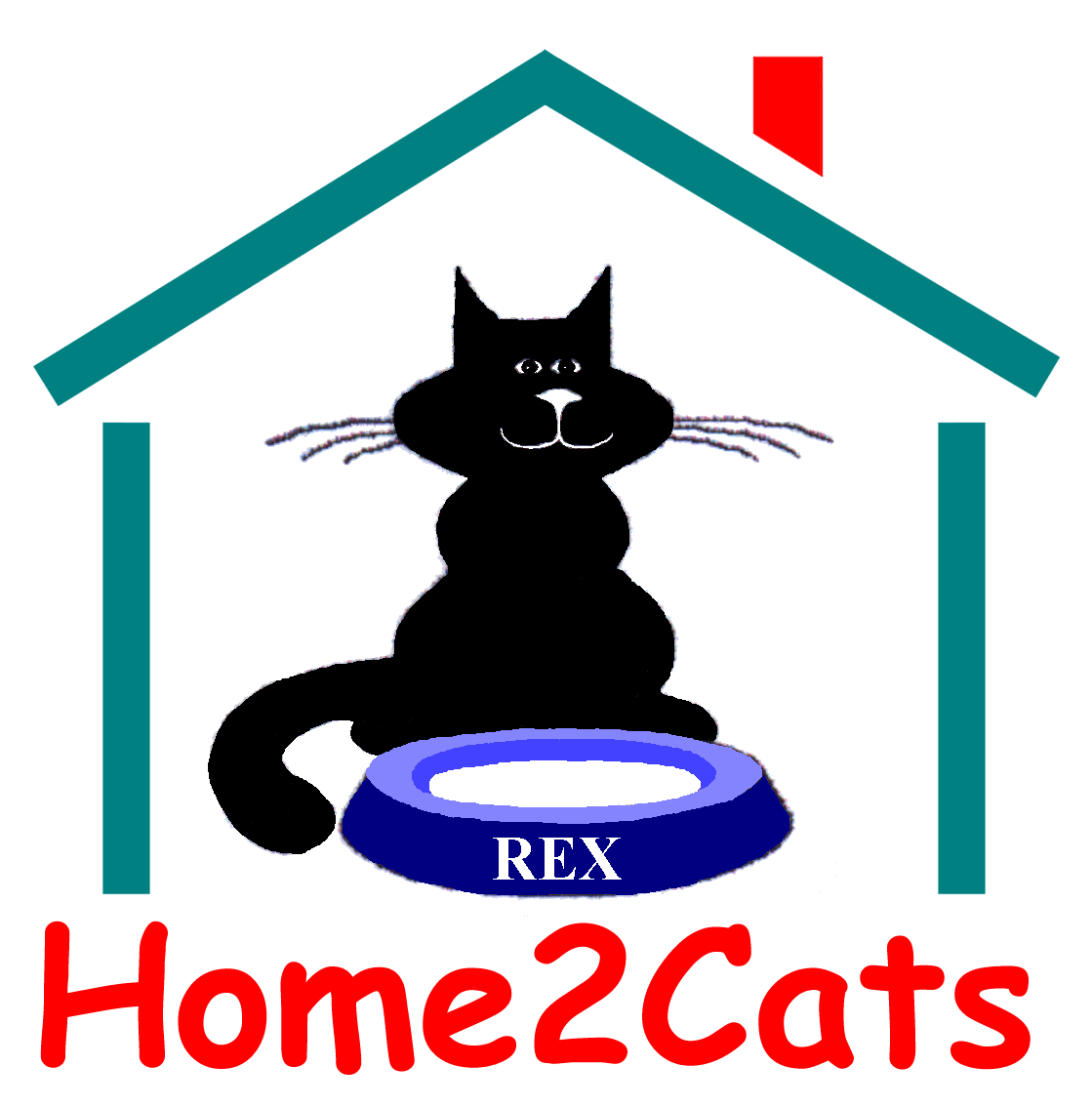 We have also added an adoption page which includes our upcoming adoption dates. Please check it out to see some of the Home2Cats felines that are awaiting loving homes.

National Animal Poison Control Center—800-548-2423


Or write to: Home 2 Cats
P. O. Box 752671
Memphis, TN 38175-2671

And, as always, our sincere thanks for images from:

Please bookmark this page and come back often!
This page was last updated 12/31/10.