THE SCRATCHING POST
~ Say What? Fall? Already?! edition ~


THIS EDITION IS LOVINGLY DEDICATED
TO THE HARDWORKING HALLOWEEN CATS
ALL OVER THE WORLD.

Fall, 2001, Issue 9 - by Barbara Stanley - home2cats@aol.com
Home2Cats, P. O. Box 752671, Memphis, TN 38175-2671

s the Tails Turn:

Larry Otis and Mischief --

We met Larry Otis and Mischief when our paths crossed twice unexpectedly one day. Both he and his dog were homeless. Mr. Otis is very independent and has never asked us for anything. In fact on our first encounter we had to talk him into accepting some canned food for Mischief.

Mischief is Mr. Otis' constant companion. Even though Mr. Otis is homeless he has taken good care of her. In return she is a loyal companion and guards their camp in the woods. The only thing Mischief was lacking was her yearly shots and heartworm check. Even though Mischief was not a stray, Home2Cats felt she deserved our assistance. Mischief now sports her current rabies tag and is on a monthly dose of heartworm medication.

We have remained friends and frequently check up on this duo. Mr. Otis has shared several poems with us that he wrote. We would like to share one with you:

Today

Is there anybody happier because you passed this way,
Does anyone remember you even spoke to them today
Today is almost over - these hours are so few-
Is there anyone that can utter now just one kindly word of you?
Is one single heart rejoicing over what you did or said,
Does one who's hopes are fading now with courage look ahead?
Did you waste the day or use it - was it well or badly spent?
Did you leave a trail of kindness or one of discontent?
When you lay at night near slumber, will you think what the Lord will say-
Did you earn one more tomorrow by what you've done today?

--Larry Otis

ews You Can Use:


New ASPCA Poison Control Hotline --

(888) 4ANI-HELP
OR
(888) 426-4435

The ASPCA has a new poison control hotline phone number for pets. If you have reason to suspect that your pet may have been exposed to something toxic, either internally or externally, this phone number will connect you with an ASPCA veterinarian specially trained to assist pet owners or other vets.

This is the only dedicated animal poison control hotline in the world manned by veterinarians, not telephone operators. The number is staffed 7 days a week / 24 hours a day.

at Tails:


Name: "Slinky"
Breed: Rock-N-Roll Mix

Slinky came to us from Knoxville, Tennessee. His owner had the best intentions but without spaying and neutering her cat population grew out of control. Being elderly, ill and lacking adequate funds, her 'twenty some' cats were being neglected.

Her daughter Jean stepped in and took control. She got on the internet and put out desperate pleas for help. One of these reached us and we were able to put her in touch with several non-profit rescue organizations in the Knoxville area. She received the help she so desperately needed from these kind folks. Rescue groups came in and took all the cats....... except Slinky.

Slinky was born with a neurological disorder and was deemed unadoptable. Jean contacted me once again. She didn't want him euthanized and she wasn't going to give up on him. Home2Cats definitely had a place for Slinky. Jean and I agreed to meet half way. This would mean a 7 hour trip for both parties. Jean was willing if it meant giving Slinky a safe haven.

Slinky had a lot of medical needs requiring immediate attention. In addition, he was severely malnourished. It took several months of recuperation for this special guy. Slinky's back end is usually going in a different direction than his front end and it is safe to say Slinky will never walk a straight line (but then how many of us do!?). Slinky's spirit is strong even if he does march to a different drummer!

Having never been told that nursing was a mother's duty, Slinky quickly became a nursemaid to many younger kittens and even full grown cats. Slinky says the world would be a better place if we all helped each other...............even if it means letting kittens nurse on you.

Slinky's Mostest Favoritest Things:
| | |
| --- | --- |
| Fave Toy ... | Track-Ball. Slinky loves any toy that comes back to him. |
| Fave Food ... | Eukanuba |
| Fave Place ... | Home2Cats |
| Fave Activity ... | Nursing kittens. |
| Fave Song ... | "Shake, Rattle, & Roll" by Bill Haley & the Comets. Slinky really 'rocks out' on this one! |
Slinky's Mostest Un-Favoritest Things:
| | |
| --- | --- |
| Un-Fave Toy ... | Toys that travel only in a straight line. |
| Un-Fave Food ... | Milk SHAKES! (lol!) |
| Un-Fave Place ... | Anywhere around kudzu. |
| Un-Fave Activity ... | Nursing full-grown cats. Ouch! |
| Un-Fave Song ... | "I Feel the Earth Move Under My Feet" by Carole King. |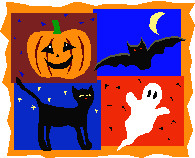 n Memory of:

While losing a companion is one of life's greatest sorrows, never having one is to miss out on years of loving companionship.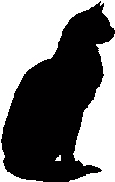 In memory of people:
Ted Cartledge
--Ruth Blann Cartledge
Dottie Crunk
--Brenda and Donald Hargrove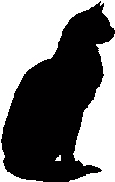 In memory of animals:
Nicole
--Steve Meyer
Bullet
--Steve Meyer
Lucy
--Barbara and Larry Stanley
Tory
--Barbara and Larry Stanley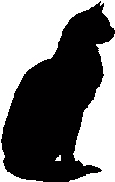 In Honor and Recognition for their love and care of animals:
Dr. Carolyn McCutcheon, Dr. Jo Cochran, and PAAH Staff
--Ruth Blann Cartledge
urious Cat-World:


Lucky Black Cats --

People in many parts of the world consider black cats to be lucky! (They certainly are around my house.) And British "Lucky Black Cat" postcards - especially the vintage ones - have become 'hot' collectibles.

Curious? The following examples are currently up-for-auction on eBay. (Click an image to enlarge it.) Enjoy! --donaldmoon, 10/29/01.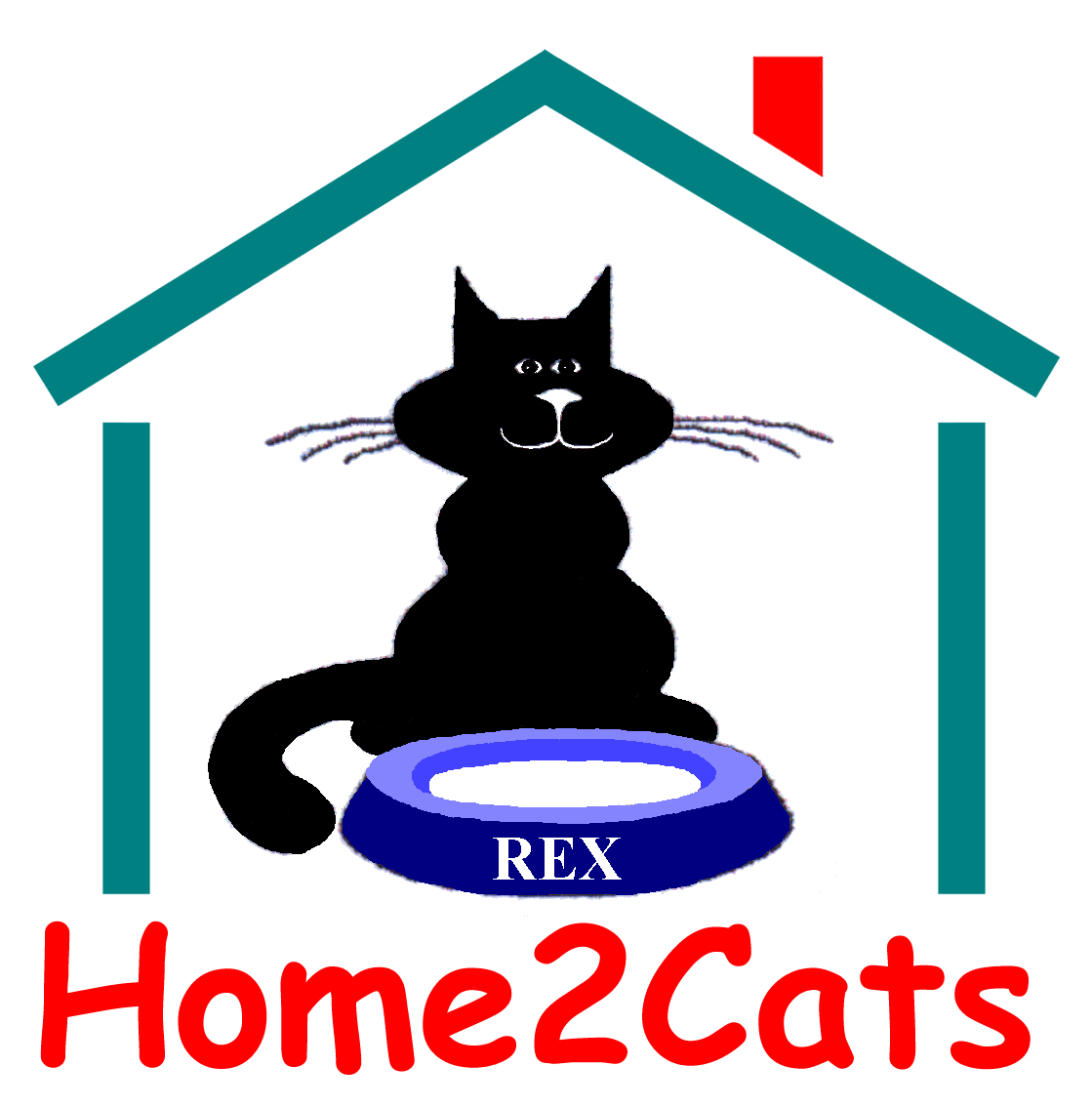 Have a fun, magical, and safe Halloween!
Please keep your pets inside...


Or write to: Home 2 Cats
P. O. Box 752671
Memphis, TN 38175-2671

And, as always, our sincere thanks for images from:

Microsoft Office: Design Gallery Live

*NaNcY*'s Cat Animation Gallery

Please bookmark this page and come back often!
This page was last updated 12/31/10.