THE SCRATCHING POST
~ Coool Cats edition ~




Winter, 2002, Issue 10 - by Barbara Stanley home2cats@aol.com
Home2Cats, P. O. Box 752671, Memphis, TN 38175-2671

ews You Can Use:


Healthy gums and teeth are essential to your pet's health --

Dental disease occurs with virtually all cats and dogs as they mature. It is caused by an accumulation of bacteria on the tooth surface and at the junction of the gum and the tooth.

Periodontal disease in your pet's mouth is not your only cause for concern. Pets with periodontal disease shed oral bacteria. This bacterium has a clear path to your pet's bloodstream and vital organs. Your pet's lungs, kidneys, heart, liver and even the brain are the most susceptible. Damage to these organs can shorten the life of your pet.

Your veterinarian should examine your pet's teeth on a routine basis not only to maintain your pet's oral health, but overall health. In addition, you should check your pet's mouth at home on a regular basis to look for warning signs.

Warning signs that you should look for are:
| | |
| --- | --- |
| | Bad breath. |
| | Plaque on the teeth near the gum line. |
| | Loose or missing teeth. |
| | Decreased appetite or difficulty eating. |
| | Red and swollen gums. |
| | Pain or bleeding when your pet eats or when the mouth or gums are touched. |
Talk to your veterinarian on what you can do to keep your pet's teeth and body healthy.

at Tails:


Name: Barney
Breed: God's Special Salt & Pepper Mix
Barney's history is a long one of pain and abuse. Determined never to let that dampen his spirits, Barney chose to survive and set about finding a new home – one that would be his forever.
Cruel treatment left Barney with a severely broken jaw. The surgery required left Barney with limited use of his jaw. His jaw kept 'freezing' and requiring re-breaking, sometimes as often as once a week. He could only eat soft food and was unable to groom himself.
Over the course of his healing he found two new homes. Barney had to be bathed weekly, needed help eating even his soft diet and was still experiencing the "freezing up" of his jaw. Because of his "high maintenance" requirements, both families eventually returned him to the vet clinic.
It was after the second placement fell through that Home2Cats was called. We could not get him immediately as his jaw once again froze, necessitating surgery. As soon as we received the okay, however, we were there immediately to bring him home.
Barney was ecstatic and settled in immediately in his "new digs." Within the week he started bathing himself. He also refused to eat canned cat food, insisting on eating dry food with the rest of the cats!
This wasn't the end of Barney's miraculous recovery adventure. When he wasn't busy eating, he was telling his story to the other cats and to us. He worked hard on his rehabilitation, keeping his jaw in constant motion. He never again required jaw surgery!!
One lingering effect of Barney's injuries (an endearing effect, I might add) is that his tongue hangs out most of the time. Barney thinks it's great to stick his tongue out at people and cats and not have it considered bad behavior.
Barney is a gentle soul and loves attention. You can usually find Barney with his paw stretched out tapping anyone within reach.
Barney has a great attitude and this guiding philosophy: "When you finally find that special home you always dreamed about, healing and recovery will come your way."
Barney's Mostest Favoritest Things:
| | |
| --- | --- |
| Fave Toy | Cat tails. (Attached to a cat, of course.) |
| Fave Food | Eukanuba. |
| Fave Activity | Basking in the sun. |
| Fave Song | "Homeward Bound" - by Simon & Garfunkle. |
| Fave Movie | "The Cat People" |
Barney's Mostest Un-Favoritest Things:
| | |
| --- | --- |
| Un-Fave Toy | Cat heads. (Too many teeth at that end.) |
| Un-Fave Food | Jaw breakers. |
| Un-Fave Activity | Keeping his tongue in his mouth. |
| Un-Fave Song | "Return to Sender" - by Elvis Presley. |
| Un-Fave Movie | "Kitten With a Whip" |

Word From Home(2Cats):


Are You up to the Challenge/Reward of Responsible Cat Ownership?

You may be IF you:
| | |
| --- | --- |
| | Think 15-20 years of caring for a pet does not seem like a lifetime. |
| | Don't mind sharing your house with someone who sheds, tracks kitty litter, and throws up hairballs. |
| | Want to take care of someone every day. |
| | Want your lap warmed whenever you sit down. |
| | Don't mind spending your extra money on pet food, toys, veterinary care, kitty litter and more kitty litter. |
| | Think scratching everything in sight is a sign of intelligence. |
| | Don't mind sharing your house with someone who will never clean up after themselves. |
| | Don't mind a housemate who will randomly and regularly entertain you with outrageous and silly antics (at their whim, not yours). |
| | Look forward to having your ankles rubbed by an affectionate, hairy animal. |
| | Want to be welcomed with a soft purr of appreciation. |
| | Believe that neutering and spaying pets will help solve the pet overpopulation. |
| | Can't imagine leaving your devoted pet behind when you move. |
| | Enjoy unconditional love and constant companionship. |
If none of the above made you blink, you're a very special person ready to share (if not already) your life with a special feline.

nimal and People Recognition:

While losing a companion is one of life's greatest sorrows, never having one is to miss out on years of loving companionship.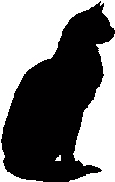 In memory of people:
Ted Cartledge
--Ruth Blann Cartledge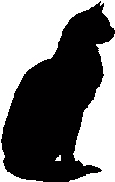 In memory of animals:
Sasha
Never forgotten.
--Barbara and Larry Stanley
Paddy
Beloved pet of Don and Brenda Hargrove
--Barbara and Larry Stanley
Maggie
Beloved pet of Jim and Chris Berney
--Steve Meyer
Fiesty
Beloved pet of Ray and Tina Osborne
--Steve Meyer
Marble
Beloved pet of Ray and Tina Osborne
--Steve Meyer
George
Beloved pet of Ray and Tina Osborne
--Steve Meyer


rom The Cat's Clawset:
Rules of Etiquette for Inexperienced Cats --
Do not allow closed doors in any room. To get one open, stand on hind legs and hammer with forepaws. Once the door is opened for you, it is not necessary to use it. You can change your mind.

urious Cat-World:

English Lucky Black Cats (continued) --
I really enjoyed looking at the "Lucky Black Cat" postcards in last season's "Scratching Post." So much so that I decided to show some more. Hope you like them too! --donaldmoon, 01/27/02.
[Click any image to enlarge it.]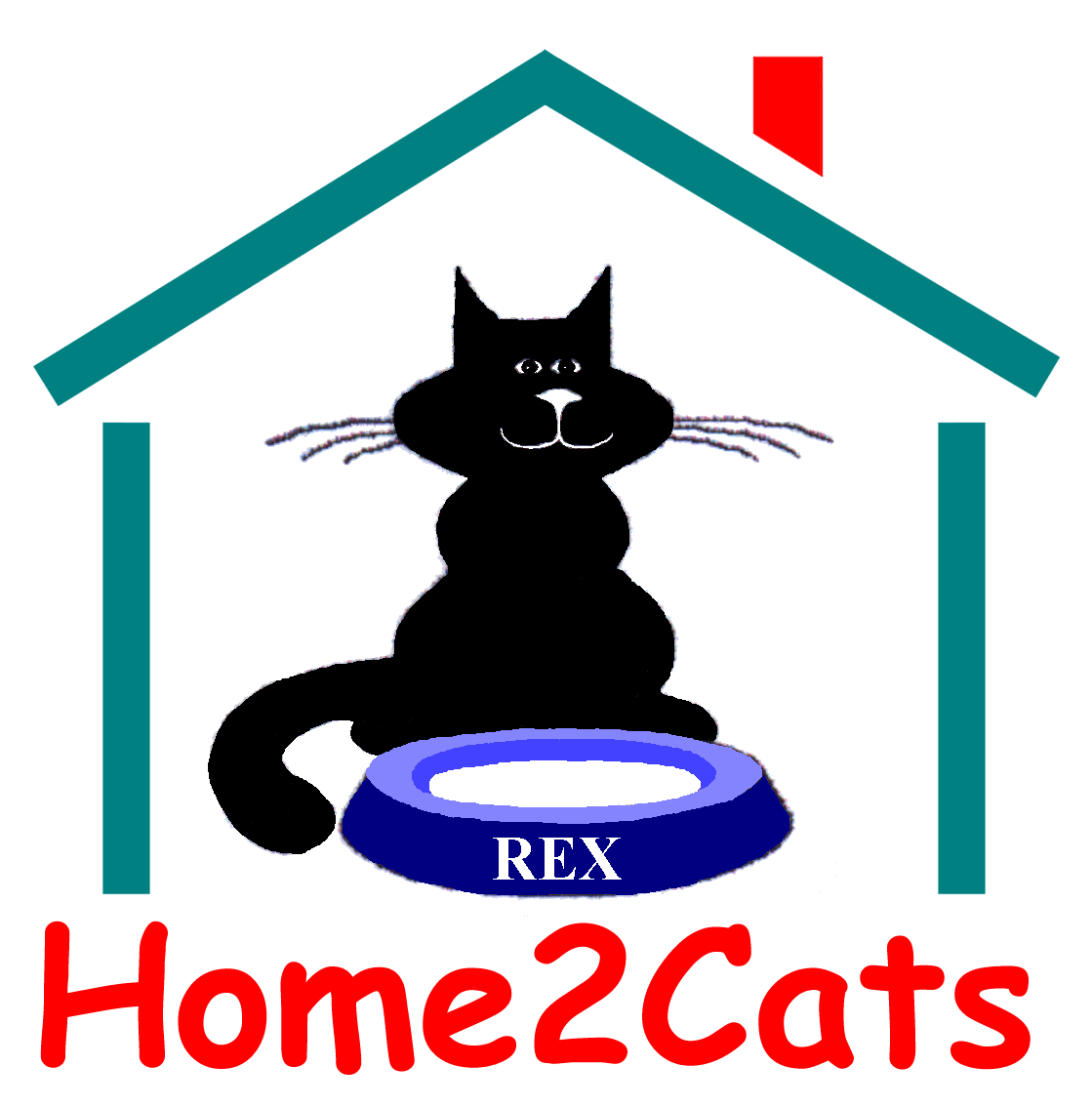 Or write to: Home 2 Cats
P. O. Box 752671
Memphis, TN 38175-2671
And, as always, our sincere thanks for images from:
Microsoft Office: Design Gallery Live
*NaNcY*'s Cat Animation Gallery
Please bookmark this page and come back often!
This page was last updated 12/31/10.